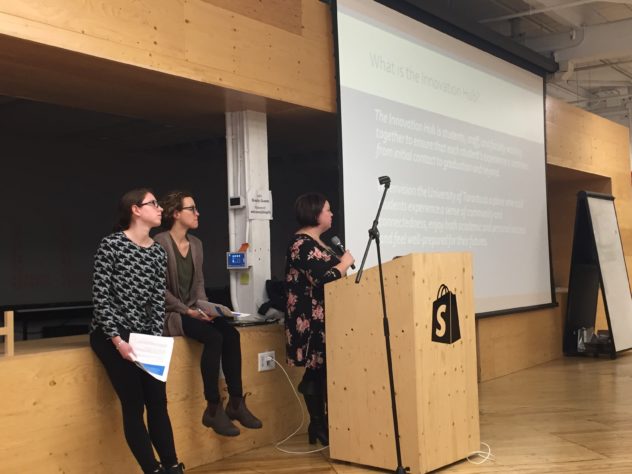 Video coming soon!
Innovation Hub presentation for CTTO
Attendance: 68 people
Breakout groups:
Civic Tech 101 (Alex) ← go here if it's your first time!
vKanata (Derek) ← online public consultations, planning how to onboard new people
Toronto Mesh ← community wifi network, looking for organizers, developers
Budetpedia (Henrik) ← Make budget more accessible, looking for city staff, UX folks
Guerrilla Archiving (Dawn) ← archiving at-risk US data, need documentation and security folks, people with experience in distributed development
DemocracyKit (Chris) ← build resource kit for local candidates, need help gathering data
PCOC (Sharky) ← provide understanding about carding, need graphic designers, data viz
Tracking TTC vehicles (Raph) ← developing political will to fix transit need python!
Dashboarding traffic performance (Raph) ← looking for people who are interested
Hacking the state of the nation (Ariel, Darcy) ← creating webcrawler to identify sources of hate speech in Canada, need devs
Fake news project (Rafi) ← CMS folks (drupal)
TPL booking project (Lina) ← looking for people with experience accessing the innovation hub
Thanks to Shopify for hosting us!