Presenter: Karen Louise Smith (@smithisgeneric)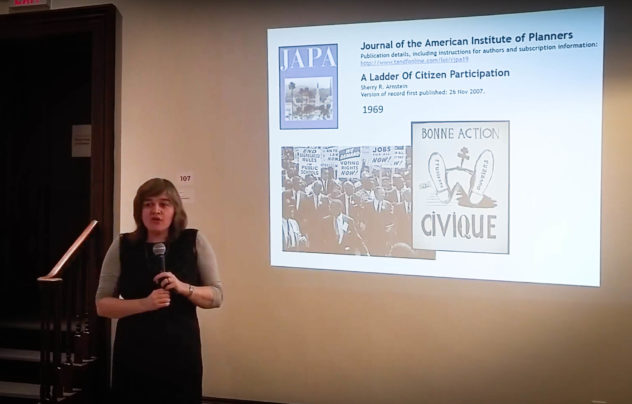 Karen introduced Arnstein's ladder of participation for citizen involvement to the civic tech community. As part of a co-design-inspired research workshop, Karen asked the Civic Tech Toronto community to share stories of participation relevant to open data, hackathons and civic technology and to map them to the ladder.
Karen is an Assistant Professor in Communication, Popular Culture & Film at Brock University. Her research explores values such as openness and participation in our digital lives.
Further information on Karen's plans for a co-design research workshop with Civic Tech Toronto is available here
Attendance: 44 hackers!
Breakout Groups
| | | |
| --- | --- | --- |
| Project | Lead | Description / Needs |
| Civic Tech 101 | Alex | Come here if it's your first time! |
| Budgetpedia | Arthur | Make the city's budget more accessible, easier to understand – Need UI / Frontend / React |
| Guerilla Archiving | Dawn | Preserving government datasets in peril – Need tools / technical things |
| Data 102 | Brianna | Learning R for beginners |
| #thecarded | Sharky | Carding, rights, government failures, call to action |
| Participation Stories | Karen | Continuation of presentation |
| Parkdale Economic Group | Olga | Job sourcing, mentorship, etc. Looking for tech help. |