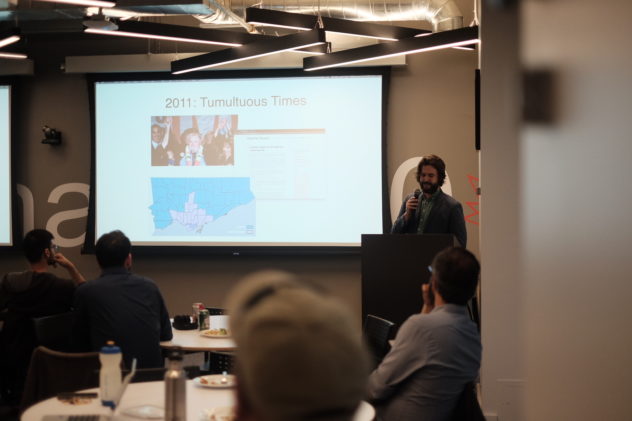 Presenter: (@GraphicMatt) is the city columnist with Metro News Toronto. He's been writing about budgets, policy and city hall shenanigans since since 2011.
Matt will tell the story of his CITY COUNCIL SCORECARD, a successful data-driven attempt to hold city councillors accountable with a very large, very nerdy spreadsheet during the tumultuous times of Mayor Rob Ford.
Attendance: 61 hackers!
Breakout groups
| | | |
| --- | --- | --- |
| Project | Lead | Description / Needs |
| Civic Tech 101 | Maj+Raph | Come here if it's your first time! |
| Budgetpedia | Henrik | Making the city's budget more accessible/easier to understand – UI/Dev/Ideas/etc. |
| Data 102 | Cindy | Judgement-free space to learn data / R |
| Open Democracy Proj. | Katie | Online resource kit to facilitate government campaign runs – Volunteer orientation / technology selection |
| New Political Party | Alan | Interest in municipal politics |
| Urban Politics | Alan | Howtos on policy, planning, etc. |
| Education & AI | Carolyn | How to use tech to improve critical thinking / interface human & machine learning |
| Guerilla Archiving | Patrick | Preserving government datasets in peril – Need tools / scrapers / Go developers |
| Transit Dashboard | Raphael | TTC tracking / scraping / data manipulation / perf dashboard – Need SQL / web |
| Why Should I Care? | Terri | 4-5 years of video archives / tech to make it accessible |
| StudySpace | Kevin | Help students find study space on campus – Looking for help |