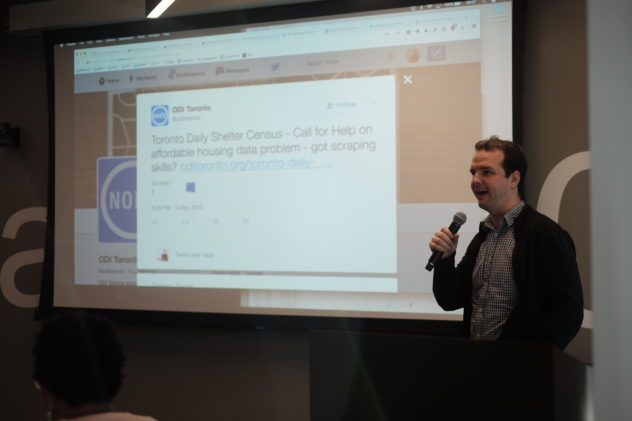 Presenter: William Wolfe-Wylie (@wolfewylie)
William is a developer at CBC News where he builds public- and journalist-facing tools to help tell stories and gather data.
William will demo a scraper and API endpoint built to track Toronto homeless shelter usage when the City of Toronto declined to provide regular historical data.
Attendance: 60 hackers!
Breakout Groups
Project
Lead
Description / Needs
Civic Tech 101
Maju
Come here if it's your first time!
Budgetpedia
DemocracyKit
Data 102
Guerrilla Archiving
Project Lab
Why Should I Care?
TTC dashboard
Henrik
Alexia
Cindy
Patrick
Gabe
Craig
Raphael
Web development and annual scorecard – UI designer/economist/researcher
Demystifying municipal campaigns/uploading content – feedback on orientation
Self-directed learning – people who want to learn a language
Saving government data – programming skills – nodejs, python, other languages!
If you've already been to Civic Tech 101 but haven't landed in a project yet
Need help getting media material online/building engagement platform
Display more meaningful TTC data – play with arrival data