Date: January 2, 2018
Venue: McKinsey & Company
Presenter: BikeSpace Project Team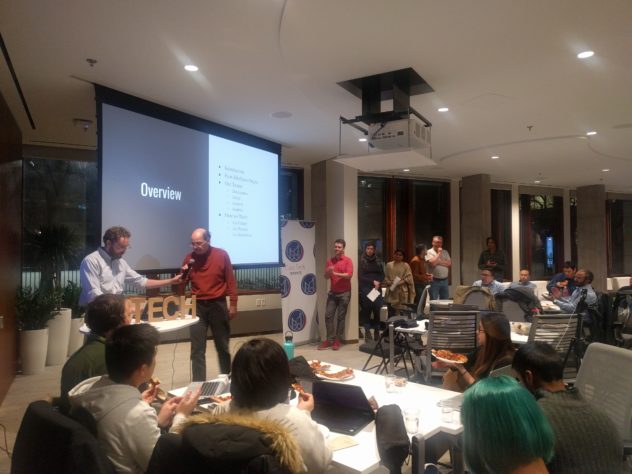 Presentation: The BikeSpace Project team shared an update on their work so far and the ways in which they're using civic tech to work with the community and stakeholders to develop better biking infrastructure.
Highlights:
The idea for the project was sparked by exploring how civic tech can make an impact on bike infrastructure, which caught the attention of a variety of volunteers and stakeholders.
The Development team fostered an environment of inclusivity, learning, and use of use.
The Design component shared how they not only focused on the tools they use, but also how they design for the a large team.
Research for the project has been iterative and benefitted from the feedback from sharing early and across a range of audiences and stakeholders.
The 'Completion Rate' is the One Metric That Matters (OMTM) for the MVP (minimum viable product).
The 'onboarding culture' helps manage and adapt to the volunteer-based nature of the project.
"Almost everyone has onboarded someone" – great example of the culture built around the BikeSpace #civictech project #BikeTO pic.twitter.com/CuYZfxb9QN

— Civic Tech Toronto (@CivicTechTO) January 3, 2018
Arthur from @CycleToronto stressing the importance of advocacy "to make Toronto a healthy, safe and vibrant cycling city for all." A great example of collaborating with community. #civictech #BikeTO pic.twitter.com/cs2snKvFdg

— Civic Tech Toronto (@CivicTechTO) January 3, 2018
"it had to be something the community owned" – our friend @IdeaRatingGuy from the @cityoftoronto on the value of collaborating with community #civictech #designwith pic.twitter.com/fKNC4scjcB

— Civic Tech Toronto (@CivicTechTO) January 3, 2018
Presentation Slides:

Breakout groups:
Project
Lead(s)
Description / Needs
Civic Tech 101
Andrew
Come here if it's your first time!!!!
Budgetpedia
Arthur
Feedback, Data analysis
Bike Parking
Jake
Team alignment on goals, research, UX, fun!
Democracy kit
Avery
Website builders
No Name Legal Project
Avery
User researchers, people with experience of the law
Women and Colour
Erin
Reviewing documentation and planning for launch.

Developers (javascript) to build website, social media and comms people to publicize the launch in 2018.
Speaking of Women and Colour, we were thrilled to see Metro have a front-page profile on the project! Article here.
Be sure to pick up a copy of @metrotoronto today! 🙌🏽 pic.twitter.com/50YZNyULwM

— Women and Color (@womenandcolor) January 2, 2018
Participants: 54