Date: January 30, 2018
Venue: McKinsey & Company
Presenter: Andrew Simpson from B-Corp Canada.
B Corp is to business what Fair Trade certification is to coffee or USDA Organic certification is to milk. B Corps are for-profit companies certified by the nonprofit B Lab to meet rigorous standards of social and environmental performance, accountability, and transparency.
Today, there is a growing community of more than 2,100 Certified B Corps from 50 countries and over 130 industries working together toward 1 unifying goal: to redefine success in business.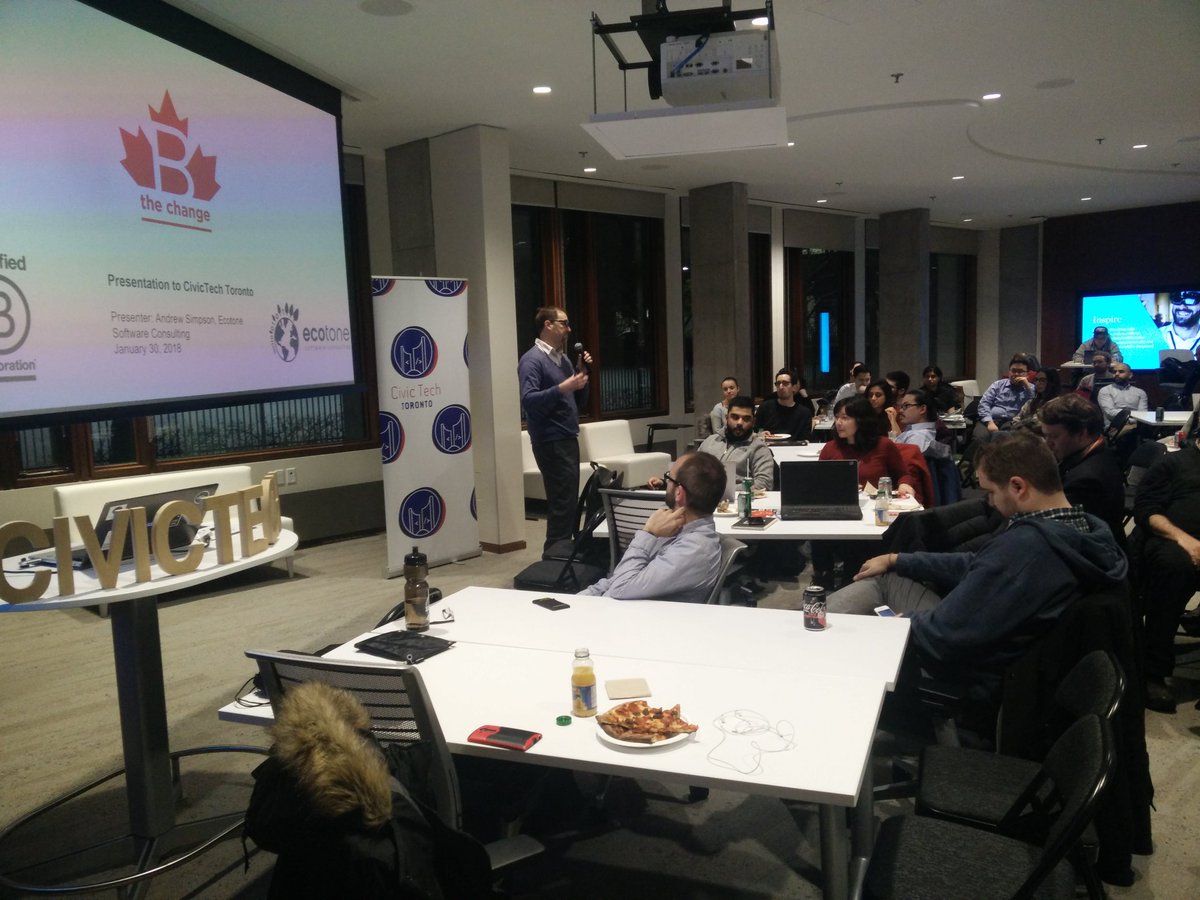 Presenting: Andrew shared a presentation on the B-Corp movement in Canada. Andrew demonstrated the need for business to be geared towards providing social benefit, some key organizations in the space, and the values propelling it all forward.
Question from audience: What was the hardest part of becoming a @BCorporation? "The rigorous tracking and standards, for sure," says @EcotoneSoftware pic.twitter.com/MmbEsZ27nS

— Civic Tech Toronto (@CivicTechTO) January 31, 2018
Question from audience: What are the benefits of becoming a @BCorporation? A: "No tax benefits in Canada, but more along the lines of social recognition." — @EcotoneSoftware #civictech

— Civic Tech Toronto (@CivicTechTO) January 31, 2018
Q: Is it legal to engage in behaviour that doesn't maximize profit for shareholders? A: "Absolutely, but you'll need to modify your company's articles of incorporation to allow this." — @EcotoneSoftware #civictech #Bcorp

— Civic Tech Toronto (@CivicTechTO) January 31, 2018
.@skennedy221 asks: If I have a very small business, is a #bcorp something I could do? Same requirements? A: "Definitely. My company is my wife and I. Sometimes easier to hit certain criteria when small." — @EcotoneSoftware #civictech pic.twitter.com/Feqy9AyVdd

— Civic Tech Toronto (@CivicTechTO) January 31, 2018
Project Pitches:
Project
Lead(s)
Description / Needs
Civic Tech 101
Zaid

Introduce you to Civic Tech Toronto and learn about you.

Please go here if it's your first time!

 Some civic-techy card games will be involved. 🙂

CodeAcross 2018 Planning
Alex

Hackathon planning for Code Across 2018 on March 3 at Toronto Public Library (Reference Library)

What we're doing today: I'm helping with the fundraising team,

What we need: InDesign designer, someone to help with content

Budgetpedia
Jim
Description of project:

Bringing transparency, and understanding, to Toronto's budget.

Advocating for improvements!

What we're doing today:

Jim, J, and Chris are here: Contacting journalists and pitching to them
Brian is here: designing data warehouse for any (parts) of financial data from any government
Kisa is here: Financial analyst looking at some FOI financial data obtained from the City
Arthur is here: working on first annual TABS (Toronto Annual Budget Scorecard)
Chris is here: working on data portal
Henrik is here: developing CMS; doing research; Tweeting

What we need: Writers, researchers, ux designers, front and back end developers, people interested in giving feedback on budgetpedia

Keep in touch: budgetpedia.ca

Bike Parking
Jake
Description: A webapp which will allow cyclists to drop a pin on a map of Toronto indicating insufficiencies in bike parking infrastructure. We believe that the most valuable data to improve Toronto's bike parking will be crowdsourced.

What we're doing today: Discussing our survey, sprinting towards our MVP!

What we need: Developers, Designers, Researchers, Data Analysts, Communicators

TTC Subway Dashboard Project
 Raphael
Description of project:

Build the political will to improve transportation.

Transit agencies are bad at communicating successes and failures: leaving users with most salient experience in their memory: their worst one By communicating transit performance in a way that users understand, they might better appreciate how good transit is while understanding why it's bad when it's bad.

What we're doing today: Scraping a bunch of subway data from the TTC, still working on processing data

What we need: Data geeks, A logo

https://github.com/CivicTechTO/ttc_subway_times

#transportation

Law and Design Team
Avery
Description of project:

Improving access, usability of legal information. There is an access to justice crisis!

What we're doing today: Hacking

What we need: User researchers, graphic designers, website builders, anyone with interest in legal issues

DemocracyKit Tech Team
Chris
Description of project:

We are an open online platform to share advice and campaign technology with campaign teams running for municipal office.

What we're doing today: Making some much needed (small) edits to the website:

Implement social sign-on

Develop search widgets for resource library, events, etc.

What we need: Web developers, designers & civic technologists interested in opening the municipal election process. Also looking for people that want to join and work towards leadership role on the tech team.

Keep in touch:

Women and Colour
Mohammed
Description of project:

Online community of talented women and people of colour available for speaking opportunities at tech-related events.

What we're doing today: Today we are working on the project!

What we need:

Javascript/Python developers (React + Django) for website development

Digital marketers for speaker engagement

Community managers for partnership outreach

Visit: womenandcolor.com

TheCarded.ca
Sharky
Description of project: We are Human Centered Design (HCD) platform that simplifies for organizations and community professionals to track their efforts and work in conjunction with policing policies.

What we're doing: User testing for resources and changes to some policies

What we need: lawyers / litigation experts – research assistant  

Chalmers Cards
Zach
Description: Chalmers Cards are laser-cut wooden handouts that explain how to access public resources for folks in tight financial situations. Stuff like toll free numbers for shelter referral, financial aid registration, and free legal aid.

The cards are laser cut onto wood so the information doesn't get crumpled. Plus people think they're cool so the cards don't get lost!

These cards have been a real hit! I'm having trouble meeting the demand for these in the shelters on my own, so I'm looking for folks to help out with laser cutting them!

What we're doing today: Looking for feedback on the latest Info Card Prototype!!

What we need:
-Graphic Designer to help design the card layout!
-Laser Cutters
-Feedback

Public Education App Idea(s)
Allister
Description of project: Looking to develop an educational app idea for kids.

What I'm doing today:

-Seeking feedback on an idea that I have developed with some UI/UX designers -looking to create an idea with anyone in general about educating students

-I can offer an educational perspective if needed (I work at a school teaching grade 6 students!)

What I need: Looking for coders, particularly anyone who can give me feedback from a back end perspective

Info to learn more:

@alternateacher

allister.geonanga@gmail.com, Grade 6 Educator with a public school board

I have a slide deck of an MVP to show if you're interested!