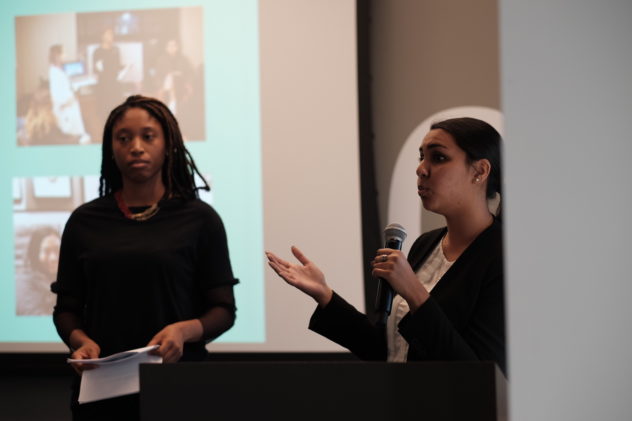 Presenters: Sarita Parmar and Shanna-Kay Smith from Open Architecture Collaborative Toronto (@OACToronto)
The Open Architecture Collaborative's mission is to look at the long-term (slow) disasters — such as homelessness, displacement, and gentrification — which architecture/design created; and how can we address these problems within our communities. Creating sustainable solutions that connect with our stakeholders' identities, desire, and values; meeting their needs in an innovative and socially responsible design.
Sarita Parmar recently graduated from the University of Toronto with a Bachelors of Arts in Human Geography and American Studies before joining OACTo as a Project Management Assistant.
Shanna-Kay Smith graduated from The School of Interior Design at Ryerson Univerity; she is the Chapter Director, developing the strategy and objectives for Open Architecture Toronto.
Attendance: 86 hackers!
Breakout Groups
| | | |
| --- | --- | --- |
| Project | Lead | Description / Needs |
| Civic Tech 101 | Gabe | Come here if it's your first time! |
| Budgetpedia | Henrik | Make the city's budget more accessible, easier to understand – CLOSED SESSION TONIGHT |
| DemocracyKit | Alexia | Online toolkit to facilitate municipal campaign runs – Future content sourcing / strategy |
| OpenArchitecture | Facundo | Residents needs data channel / discussion about project |
| Guerilla Archiving | Patcon | Preserving government datasets in peril – Need tools / scrapers / Go developers |
| Democratic Toronto | Alan | Strategies for incumbent advantage and other municipal political issues |
| City Transportation | Raphael | Citizen-science performance measurement  for TTC. Scraping/munging/dashboard – Need SQL / web |
| The Carded | Sharky | Program to create better explanations / transparency about new laws re: carding / profiling |
| Data 102 | Brianna/Cindy | Judgement-free space to learn data / R / visualization |
| Toronto.ca | Rob | Insights into problems with website |
| Why Should I Care? | Terri | Website updates / 4-5 years of video archives / tech to make it accessible |